Hello and welcome toanother Book Blogger Interrogation! I have had the pleasure of getting to know a number of very cool book bloggers from all over the blogosphere. I thought it would be fun to put them under the heat lamp so to speak and get some answers to some fun questions. Today I want you to meet Julie from Reading Without Restraint. She found me a few months back and I am so glad she did. She is an active member of the BMWL2R community and we are so happy to have her. Now I want you to get to know her a little better.
1. Tell me the number one reason you love to read.
It is a cheap form of entertainment! I can't afford to travel the world, so books are a way to do that without going to the extra expense…..
2. What is it about sharing your reviews that keeps you going?
I love to read my followers comments. And I like to think that I can help other readers find their next great read!
3. Who is your all-time favorite author?
I would say my favorite author is Jodi Picoult.
4. What is your all-time favorite book (single or series)?
My favorite book (hands-down) is I Know This Much Is True by Wally Lamb. My favorite series is the Prey Series by John Sandford.
5. If you could pick one fictional character and bring them to life, who would it be?
Since the Prey Series is my favorite series, I would have to say I would love to meet Lucan Davenport or his wife, Weather…….
6. Do you always finish a book, even if you know you don't like it half way in?
Most of the time I will finish a book. I only set a book aside if I can't stand it, and usually I can find something to enjoy in every book I read…..
7. Do you own an eReader? If yes, why? If no, why not?
Yes, I own a Nook. This isn't something I would ever have bought for myself, but my hubby got it for me. I absolutely love it!
8. What is your all-time single favorite genre to read?
I would have to say Women's Fiction. I love dramas that explore relationships and family ties—especially if they make me cry!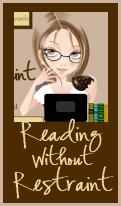 9. Here's your chance to plug your book review blog, twitter, facebook, etc. You know, make a general plea for people to like you…
There are so many great blogs out there. I really don't think mine stands out—it is just something that I enjoy doing and I hope others enjoy it as well. Stop by for a visit and if you like what you see, sign up for a follow!
I hope you all enjoyed getting to know Julie P - I know I did. Come back next week to meet Ham1299 from Proud Book Nerd!