THIS GIVEAWAY IS NOW CLOSED!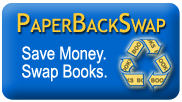 I know you have all heard/read me gush about PaperBackSwap. I just love this site. It serves a very important purpose for all avid readers. If you are like me, your bookshelf if stuffed double-stacked, and it's not that you don't like it, it's just that you wish some of the title were books that you had yet to read instead of just finished. PaperBackSwap has the perfect answer to this dilemma! You list the books you have, and if someone else has requested the book, you will get a notice asking you to send the book to them. You pay between $2 and $3 in shipping (media mail, although sometimes first class is cheaper, so always double-check) to send your book to the requestor. This earns you 1 credit (unless it's an audio book, which is worth two) which you can use to request any other book in the PaperBackSwap database and have it send to you at the sender's cost. So essentially, you can get a new to you book for under $3. And I can honestly tell you that I have gotten over 50 books through PaperBackSwap and I have only had an issue with 1 book not being in absolutely decent condition. I am so in love with PaperBackSwap that I have decided to giveaway 3 PBS credits (that's three books of your choice from the PaperBackSwap database) to one very lucky winner!
Here's How It Works:
Mandatory Entry: (you must do this one first or I will be forced to remove all of your entries)
Become a Follower of BMWL2R In some form - GFC, Twitter, or Facebook.
Please include your email address in your comment. (feel free to use the antiSPAM version - yourname[at]yourserver[dot]com)
Get More Entries: (LEAVE A SEPARATE COMMENT FOR EACH ENTRY)
Become a GFC Follower (if you already are one, just tell me so)

Follow me on Twitter

@1outnumberedmom

Become a Facebook Fan of BMWL2R (see sidebar) and leave a comment on the wall telling me you want to win!

If you are not already a PaperBackSwap member (you will have to be to redeem the credits if you win) sign up here.
If you already are a PaperBackSwap member - friend me - OutnumberedMama
All entries must be in by December 18th at 11:59pm PST. I will pick a winner using a Random Number Generator.!