Welcome to the inaugural edition of the Tuesday Tag-Along blog hop, hosted by Twee Poppets Review and Giveaway! This is a great way to discover new blogs while increasing the number of followers for your own blog. Please feel free to grab the TTA button for your blogroll to help bring more bloggers to this blog hop!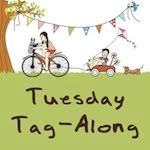 The weekly Tuesday Tag-Along post and MckLinky will be posted every Monday night at 8:59pm Pacific Standard Time (that's 11:59pm Eastern Standard Time), and the MckLinky will be open to add your blog until 11:59pm Tuesday night. You then have all week long to visit blogs and return follows!
There is a new list every week. The link you enter one week will not carry over to the next week's MckLinky. Please link up again each week to join in the fun!
Tuesday Tag-Along Blog Hopper of the Week:
Each week, one blog will be chosen randomly from all the links, and that lucky blog will be placed in the desirable second slot for the following week's MckLinky! Who will be the first TTA Blog Hopper of the Week? It could be you!